Bulgaria will delight you with its beauty, archeological gems and genuine people. Explore this country with our Beautiful Bulgaria Itinerary.
Nestled in the heart of the Balkans, Bulgaria enchants with its captivating blend of history, nature, and cultural heritage. From its vibrant capital Sofia, where ancient landmarks coexist with modern life, to the timeless beauty of Plovdiv's Old Town, Bulgaria offers a journey through time. The majestic Rila Monastery stands as a testament to both faith and architecture, while the picturesque Black Sea coast invites travelers to unwind on sandy beaches. Bulgaria has changed so much since the first time I landed there over 20 years ago, however, what has not changed for me, is the place that Bulgaria holds in my heart.
You will find Bulgaria to be full of surprises with magnificent nature, archeological gems and genuine people. I have lost count on how many times I have been, but my heart always skips a beat the minute I get to go back. I hope you also will discover a similar love for this country and its people.
Bulgaria History
Bulgarian history weaves a complex tapestry of civilizations, conquests, and cultural evolution. It traces back to the ancient Thracians. The Roman Empire's influence followed. In 681 AD, Bulgaria established its First Bulgarian Empire, marking the nation's emergence as a regional power. This was succeeded by Byzantine rule, Ottoman domination, and a struggle for independence that culminated in the late 19th century. The tumultuous 20th century witnessed wars, communism, and finally, Bulgaria's transition to democracy in the 1990s. Throughout its history, Bulgaria's unique blend of Slavic, Thracian, and other cultural influences has shaped its identity and contributed to its rich heritage. Our Beautiful Bulgaria Itinerary brings together some of the best Bulgaria has to offer.
Beautiful Bulgaria Itinerary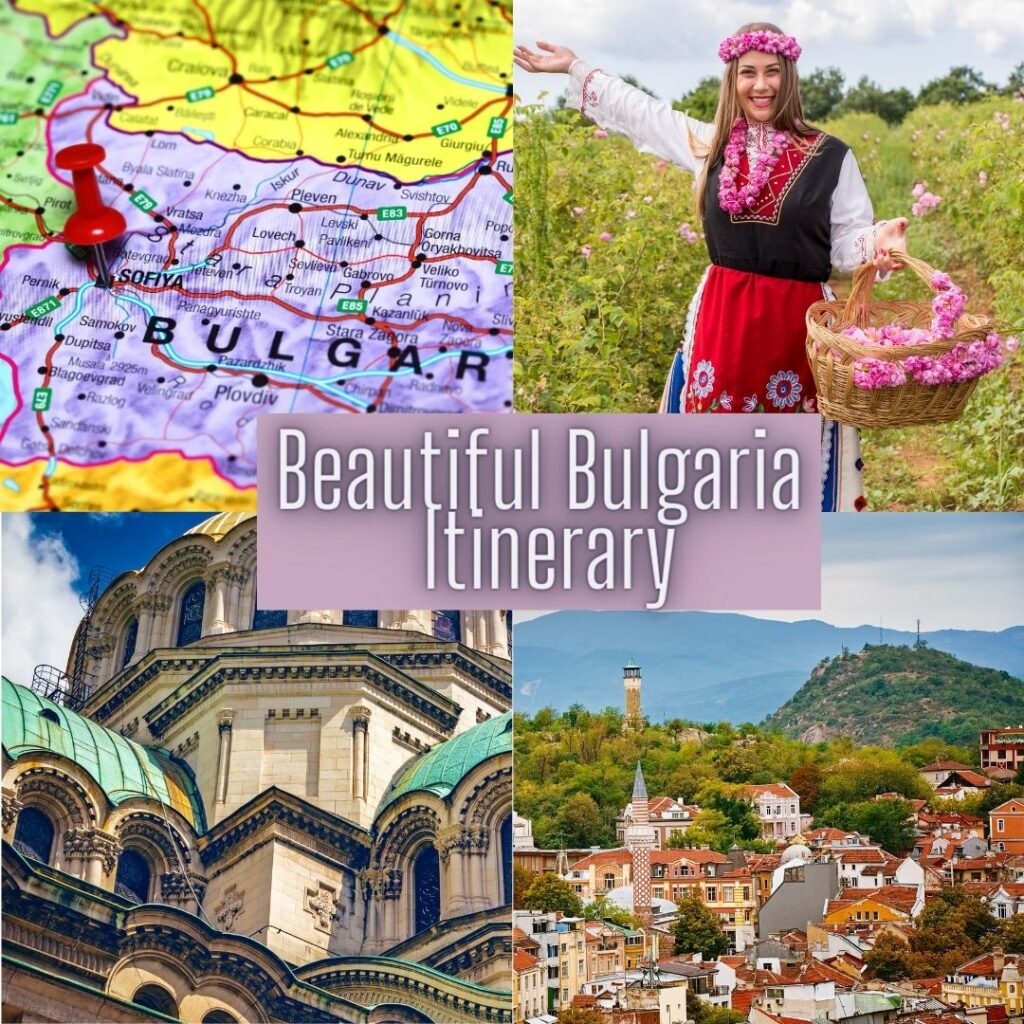 Day 1: Arrival in Sofia
On the first day of our Beautiful Bulgaria Itinerary we arrive in Sofia! We will spend the day exploring the beautiful Alexander Nevsky Cathedral. After our visit to the Nevsky we will stop at the small antiques market outside to peruse the options and maybe pick up a thing or two. We will then head to the St. George Rotunda and to the National Palace of Culture. For lunch we will stop at the happiest of restaurants – Happy! If you are not familiar with Happy, this will become a staple for you on visits to Bulgaria. The menu is extensive and has pictures of everything make it easy to order, even if your Bulgarian is ne dobre!
This afternoon we will visit Boyana Church, a UNESCO World Heritage Site, that boasts exquisite medieval frescoes that offer a glimpse into Bulgaria's artistic heritage.
Later this evening, wander around Vitosha Boulevard for shopping and dining. Believe it or not restaurants in Sofia book up quickly, so make reservations! We recommend the following restaurants for traditional food:
Manastirska Magernitsa – our fave is a lovely vegetarian bean dish
Moma
Hadjidragana Tavern
Looking for a hotel in Sofia? We recommend:
Best Western Premier Sofia Airport Hotel – this is a terrific option if you are looking for a hotel near the airport. They offer a free airport shuttle and free breakfast. If you are arriving late or leaving early, you can't beat the hotel's location for ease of access to the airport. I have stayed here many times and always had a great experience.
Intercontinental Hotel Sofia – wonderful location for those with a higher budget
R34 Boutique Hotel – 3-star hotel within walking distance to center attractions
If you have extra time/interest in Sofia, we highly recommend these tours: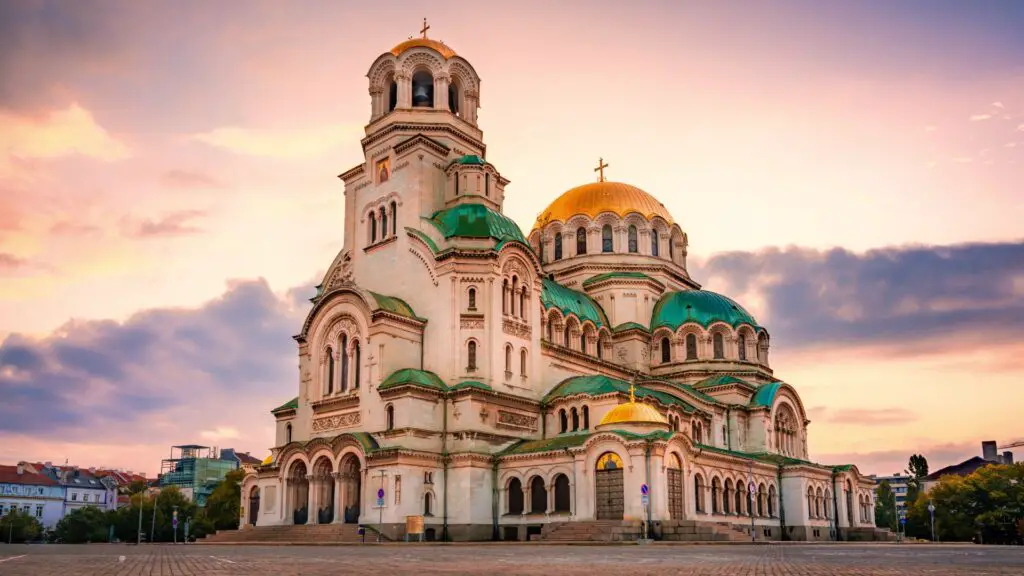 Day 2: Adventuring to Rila Monastery
This morning we will wake early to head to the mountains! We will take a day trip to Rila Monastery, a UNESCO World Heritage site. Rila Monastery is spectacularly beautiful and contains and important relic of St. John of Rila. We will explore the impressive architecture and stunning frescoes. If we have time, we can also hike in the surrounding Rila Mountains. For lunch we will stop at one of the roadside mehanas that cook up delicious mountain trout in a gorgeous wooded setting.
If do not want to venture to Rila with your own vehicle or via bus, there are many affordable day trips available to you like this one.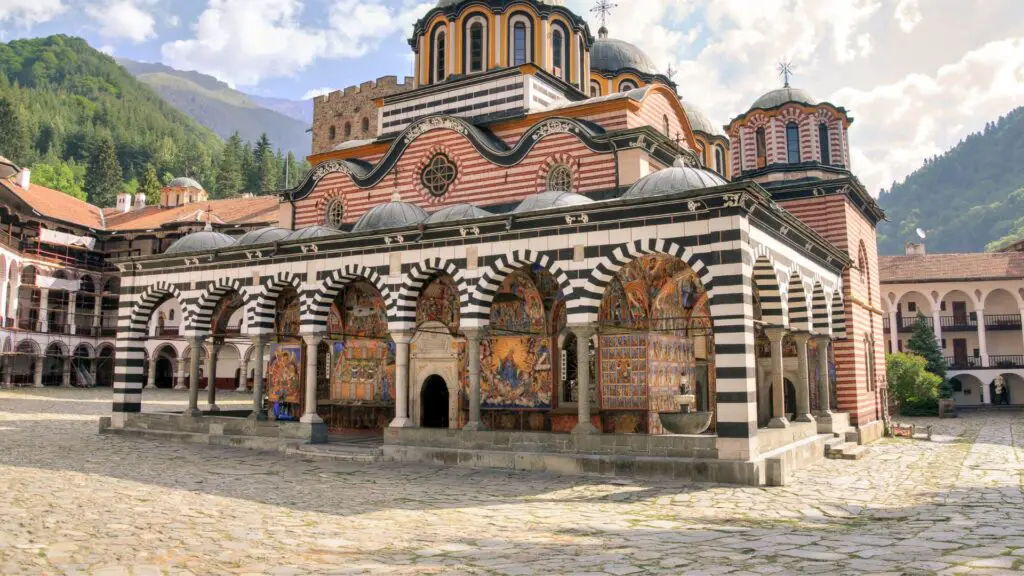 Day 3: Plovdiv – Europe's Oldest City
This morning we travel to Plovdiv, one of our favorite cities and one of Europe's oldest. The next stop on our Beautiful Bulgaria Itinerary – Plovdiv – is filled with ancient Roman ruins. Many of the ruins run under the glavnata ulitsa (main shopping street). Plovdiv is the only place in the world where you can find an H&M with ancient Roman ruins in the basement! Here we will walk through the charming Old Town where we will visit the Ancient Theater. If we are lucky we will come back to the theater for a live performance (Check ticket availability ahead of time. You can see everything from major headliners here to Bulgarian folk performances.) Tonight, we will explore the lively Kapana District filled with many restaurants and bars.
Looking for a hotel in Plovdiv? We recommend:
Doubletree by Hilton – newer hotel in an excellent location – it only took me about 6 minutes to walk to the main shopping street/center from the Doubletree. Rooms are very comfortable and breakfast is included.
Residence City Garden – steps from the central park of Plovdiv and main shopping street.
Landmark Creek Hotel and Wellness – this hotel is not walking distance to the center of Plovdiv, however, if you are looking for a bit of a getaway, but still within about a 6-minute drive to the center, this may be for you. The rooms are big and lovely and many look out onto the water. They also have a spa center with hot tub and sauna that can be rented for private parties.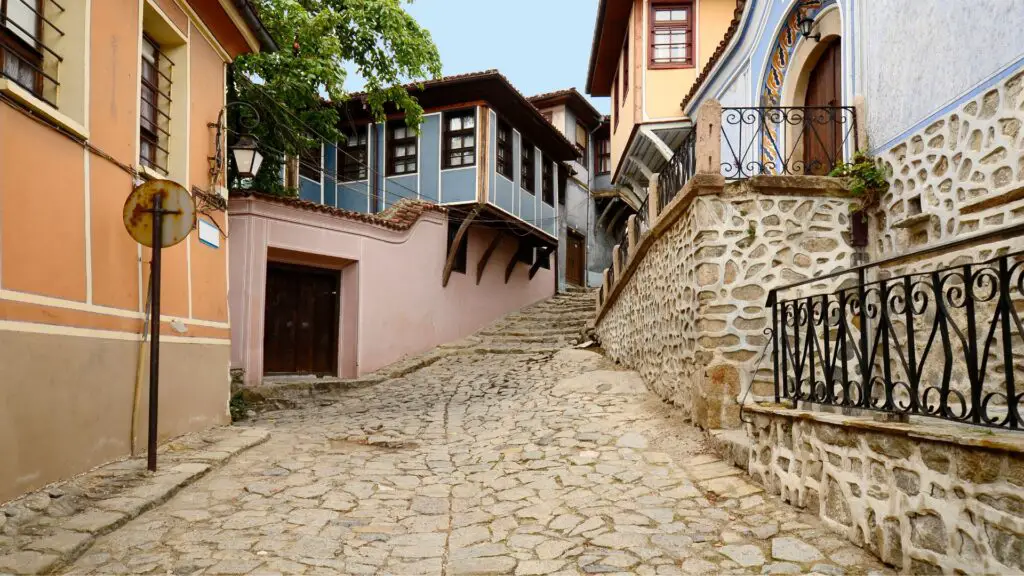 Day 4: Exploring more of Plovdiv
We will spend another day exploring Plovdiv, enjoying the city's vibrant arts and culture scene. Today we visit the Regional Ethnographic Museum and the Regional Archeological Museum. We will also have plenty of time today to explore Plovdiv's many shops and spend time watching people go by at one of the cafe's on the main street. Today is all about absorbing Bulgarian life!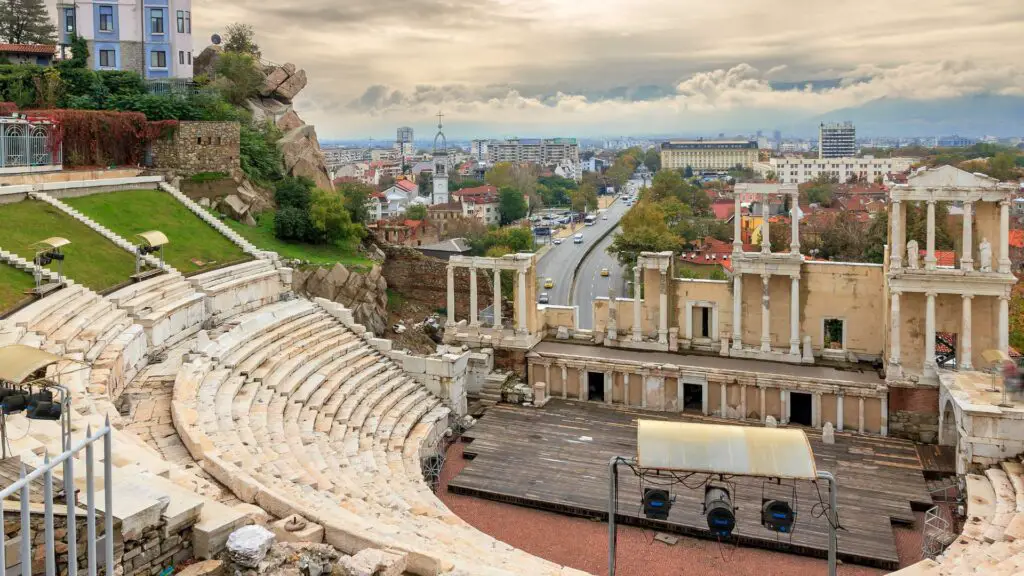 Day 5: Onward to Bulgaria's Medieval Capital – Veliko Tarnovo
Next, on our Beautiful Bulgaria Itinerary we head to to Veliko Tarnovo, a historic city known for its role as the medieval capital of the Second Bulgarian Empire. It was a center of cultural and political influence from the 12th to the 14th centuries, characterized by its strategic hillside location, impressive Tsarevets Fortress, and rich cultural heritage. We will visit Tsarevets Fortress, where after climbing to the top we can enjoy the panoramic views.
Afterward, we will spend time walking down Samovodska Charshia, the oldest market street in Veliko Tarnovo, where you can purchase souvenirs and traditional handicrafts.
Looking for a hotel in Veliko Turnovo? For 3-star hotel we recommend the Augusta Spa Hotel. If you have a bigger budget or are looking for a 5-star, we recommend the Bey House Royal Hotel.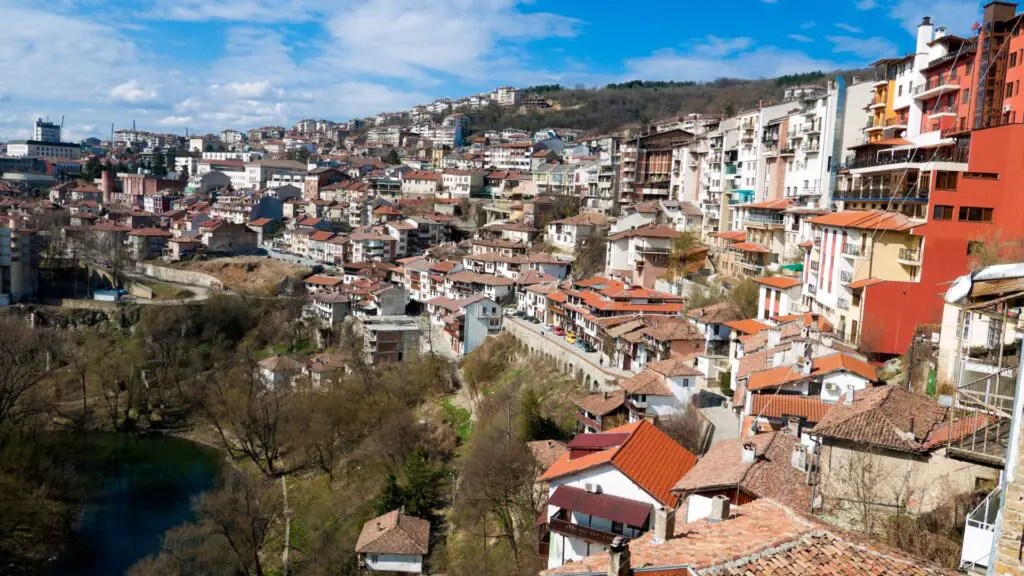 Day 6: Thracian History in Arbanasi and Kazanlak and the Valley of the Roses
Continuing on our journey on our Beautiful Bulgaria Itinerary we will spend the first part of our day in the nearby village of Arbanasi. With its well-preserved 17th and 18th-century houses adorned with intricate frescoes, Arbanasi offers a captivating glimpse into Bulgaria's past. While there, we will visit the Church of the Nativity of Christ. This 16th-century Orthodox church is renowned for its stunning frescoes that cover almost every inch of its interior walls. The vibrant and detailed frescoes depict scenes from the Bible and provide a remarkable insight into the artistic and religious history of the region.
This afternoon we will continue on to Kazanlak first visiting the Thracian Tomb, a UNESCO World Heritage Site. Dating back to the 4th century BCE, this ancient burial site is adorned with exquisite murals that depict scenes of daily life, rituals, and mythology of the Thracian civilization. Next we will visit the Rose Museum. The museum is dedicated to the rich history and significance of the rose industry in the region. Known as the "Valley of Roses," Kazanlak has been a center of rose cultivation for centuries, producing valuable rose oil. The museum showcases the process of rose cultivation, oil extraction, and the cultural heritage tied to the rose oil industry.
*If you are lucky to be in Bulgaria during the first week of June, you can visit the Rose Festival in Kazanlak. This annual event celebrates the region's rose-growing heritage and includes various festivities, parades, folk performances, and exhibitions.
Looking for a hotel in Kazanlak? We recommend the Residence Konstantina Palace.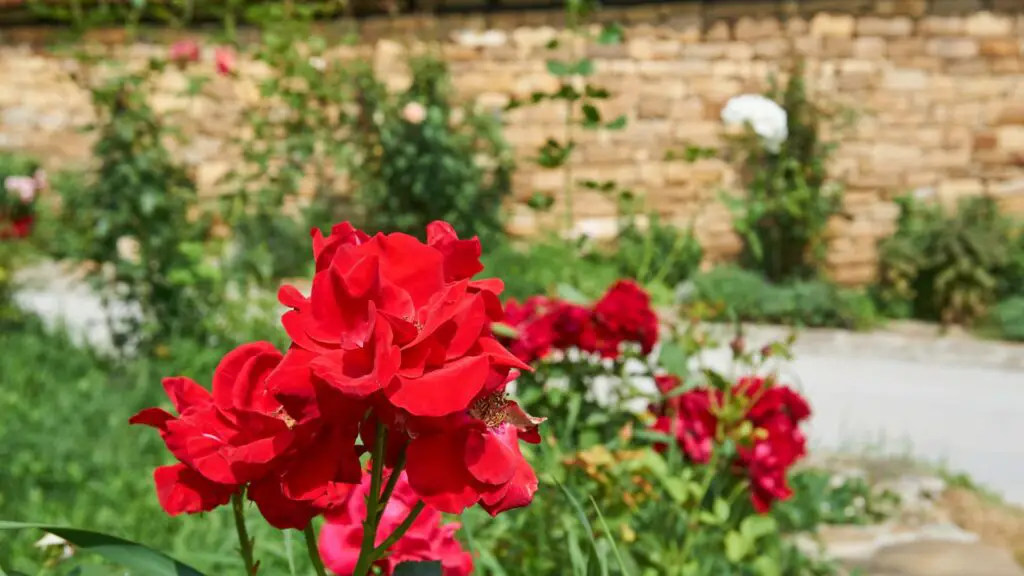 Day 7: Shipka Pass and Buzludzha Monument
Today we head to the other side of the mountains and drive through the scenic Shipka Pass. We will stop to climb the 894 steps to the Shipka Monument. The monument, is a historical memorial commemorating the sacrifices and valor of Bulgarian and Russian soldiers during the Russo-Turkish War of 1877-1878. The monument stands as a symbol of the struggle for independence and features a golden-domed chapel at its summit. If you make it all the way to the top you will be rewarded with stunning panoramic views of the surrounding mountains.
Afterward, we will explore the Buzludzha Monument for a unique historical experience. Built during the communist era, the monument was intended to commemorate socialist ideas and honor the events of the Bulgarian socialist movement. Its distinctive circular design and large red star on top make it a visually captivating structure, although it has fallen into disrepair over the years. The interior once housed meeting halls and mosaics depicting revolutionary scenes. While the monument is closed to the public due to safety concerns, it remains an intriguing testament to Bulgaria's history.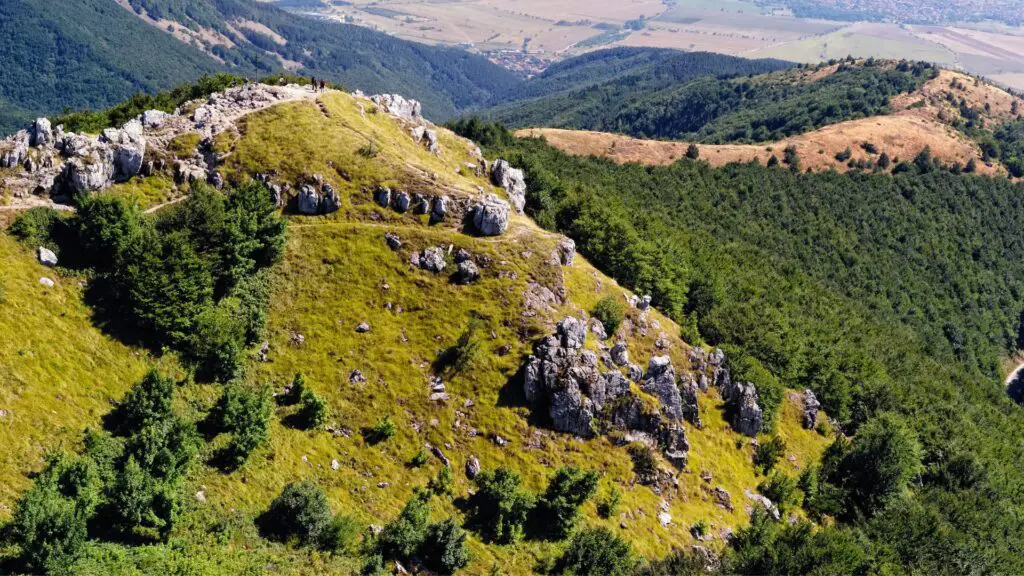 Day 8: To the Black Sea & Varna
Today we travel to Varna, the largest city on Bulgaria's Black Sea Coast. Here we will begin our day by strolling along Varna's picturesque Sea Garden, a lush park that runs along the Black Sea coast. Next, we will visit the Archaeological Museum to uncover the city's rich past, including its Thracian, Greek, and Roman origins.
After lunch, we will explore the Cathedral of the Assumption of the Virgin, known for its stunning interior frescoes. We spend the rest of the day relaxing on Varna's beach and taking a dip in the sea.
Looking for a hotel in Varna? We recommend: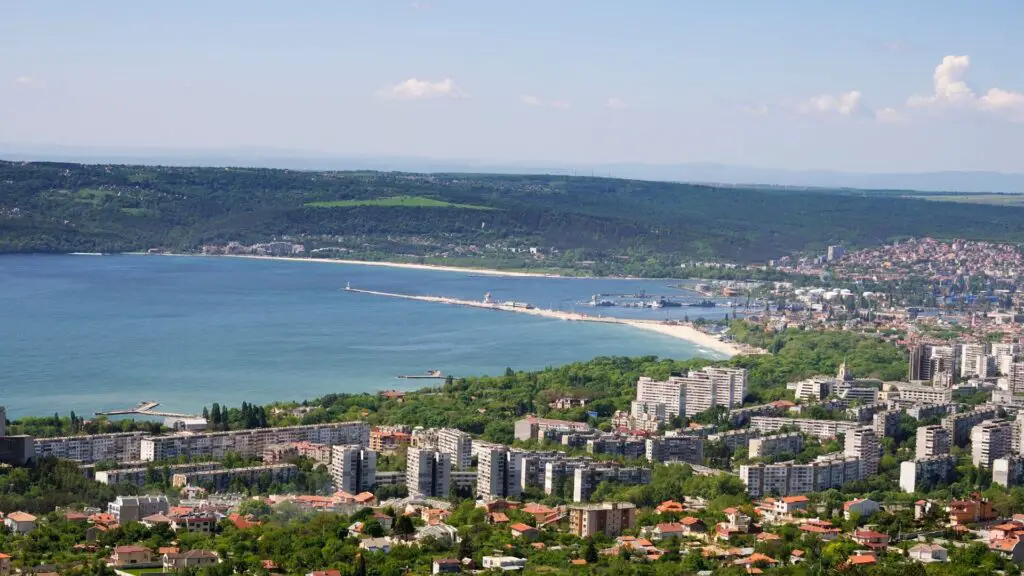 Day 9: Nessebar
The next stop on our Beautiful Bulgaria itinerary is one of my favorite cities in Bulgaria – Nessabar. Nessabar is also a UNESCO World Heritage site with ancient ruins and charming streets. We will admire the frescoes and architecture of the Church of St. Stephen and have lunch at a seaside restaurant.
In the afternoon, explore the Archaeological Museum to learn about Nessebar's ancient past as a Greek colony and medieval trading hub. Later stroll along the scenic coastline, taking in the stunning views of the Black Sea.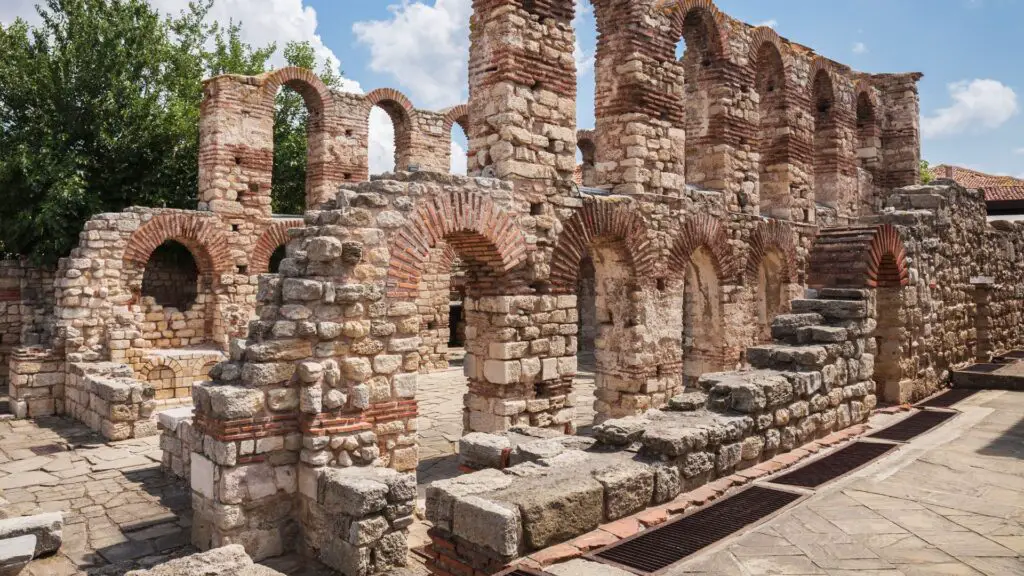 Day 10: Traveler's Choice – Varna or Burgas
The last day on our Beautiful Bulgaria Itinerary can bring us back to Varna to relax on the beaches or to the city of Burgas, also located on the Black Sea Coast. This will be spent relaxing other on the beach or wandering the city streets, shops and cafes.
If you are departing tomorrow, both cities have airports and both offer easy highway access back to Sofia.
**There are a thousand other places in Bulgaria I could have included in this Beautiful Bulgaria Itinerary. This short itinerary will give you just a taste of this wonderful country. You could spend many more weeks, months, and years (as I have!) exploring and still find something new each time you visit. It is hard to believe so much good can be packed into a country so small and the secret still is not out – but ssssshhh! Let's keep it to ourselves for now.**
Interested in reading more? Check out our article on the 5 Things You Must Do in Sofia.
FAQ for Traveling to Bulgaria
Do I need a visa to visit Bulgaria?
Citizens of the European Union (EU) and many other countries don't need a visa for short stays (up to 90 days) in Bulgaria. Check the Bulgarian Ministry of Foreign Affairs website for a list of countries whose citizens are exempt from visa requirements.
What's the currency in Bulgaria?
The official currency in Bulgaria is the Bulgarian Lev (BGN). ATMs are widely available, and credit cards are accepted in most places.
Is English widely spoken in Bulgaria?
While Bulgarian is the official language, many Bulgarians, especially in urban areas and tourist destinations, have a basic understanding of English. Some signs and menus are often available in English as well.
What's the best time to visit Bulgaria?
The best time to visit Bulgaria is during the spring (April to June) and fall (September to October) when the weather is pleasant, and crowds are smaller. The summer months (July and August) are popular for coastal vacations, while winter is ideal for skiing in the mountain resorts.
Are tap water and food safe to consume?
Tap water is generally safe to drink in major cities and towns. However, bottled water is readily available if you prefer. Bulgarian cuisine is diverse and delicious, with traditional dishes like banitsa (pastry filled with cheese), kebapche (grilled minced meat), and shopska salad (fresh vegetable salad with cheese). Restaurants and eateries adhere to health and safety standards.
How's the public transportation system in Bulgaria?
Bulgaria has an extensive public transportation system, including buses, trams, and trains, especially in cities like Sofia and Plovdiv. Buses are a common mode of transport for traveling between cities and towns.
Is Bulgaria safe for travelers?
Bulgaria is generally safe for travelers. Violent crime is rare, but it's wise to be cautious of pickpocketing in crowded areas. Stay vigilant with your belongings and avoid isolated places at night.
What's the tipping etiquette in Bulgaria?
Tipping is appreciated but not mandatory. In restaurants, rounding up the bill or leaving a 5-10% tip is common. Tip taxi drivers and hotel staff if you're satisfied with the service.