Follow along our Old Florida Road Trip itinerary and get hints and tips on planning and customizing your own Florida road trip.
2 years ago I started a tradition with my boys that as soon as school is out for the summer, the three us us would go on a trip together. Our first year, we decided to explore a bit of Florida with a road trip. It was important to me to mix some of old Florida along with a few newer things. The road trip included hitting up a couple of amazing state parks, hunting for sharks teeth, ocean swimming and even Kennedy Space Center.
Here is the itinerary we used for our Old Florida Road Trip that takes you from the Oldest City in the United States – St. Augustine to the west coast of Florida and back. Use this to plan and customize your own trip and have a wonderful time exploring some "old Florida" sites.
Old Florida Road Trip Itinerary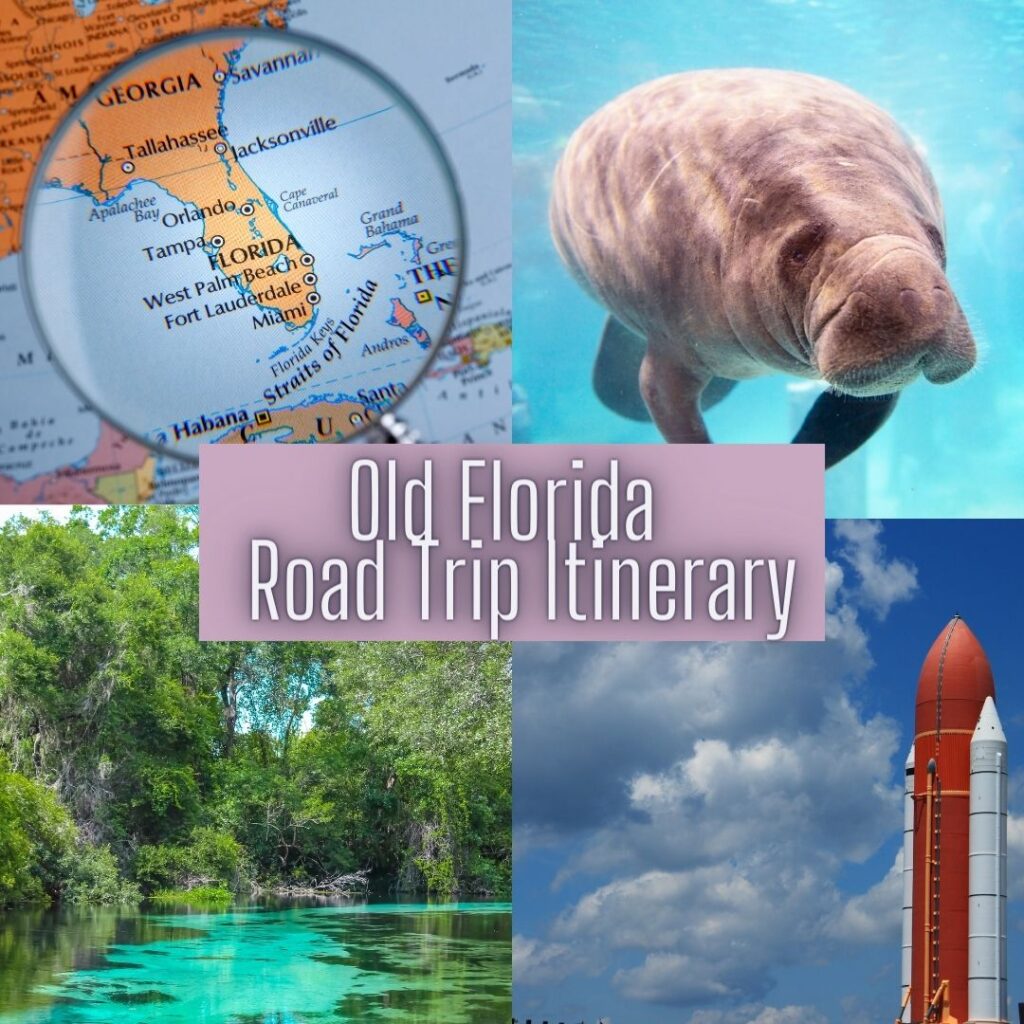 Day 1: St. Augustine to Dunnellon
We left St. Augustine early in the morning to head to De Leon Springs State Park and were there prior to the park opening and had to wait in the car line to enter. Make sure to plan ahead if getting early and staking out your spot is important to you. Our goal was to arrive early enough to get in line for the Old Spanish Sugar Mill Restaurant as soon as it opened.
We waited until our name was called and were led to a back table with plenty of room. All of the tables here have a griddle in the middle so you can cook your own pancakes! We ordered both the buttermilk and buckwheat pancakes along with regular and veggie sausage. We also ordered pancake toppings, which included chocolate chips! Our pancake mix was brought out in the cutest pitchers and the boys and I went to town making our own pancakes together. This was such a fun activity for all of us. They were able to put on their own toppings and flip the pancakes. We were also able to make more as they ate so left with full stomachs.
After breakfast we had a chance to look at the small museum room at the park to learn more about the history of the area. It is always important for me to provide an educational component to our activities and Florida State parks are a perfect way to do that.
We then grabbed our towels from our car and found a great spot to sit in next to the springs. The boys spent the couple of ours swimming in the cool water. When we were finished, we stopped at the changing stalls so they could put on dry clothes and headed back to the car. I had backed a cooler with lunch so they could eat on the way to our next stop – Dunnellon.
On the way we stopped at Cannon Farms and picked 3 beautiful sunflowers to decorate our AirBnB and some fresh produce for dinner.
I have a lovely friend who offered us the opportunity to stay in his AirBnB in Dunnellon and we jumped on the chance! It was the perfect place for the boys and I to stay for the next 2 nights. We go there, and got settled – this spot was great as they had a wonderful yard to run around in and were right on the river to watch people go by on their boats. We made dinner at home and settled in for the night.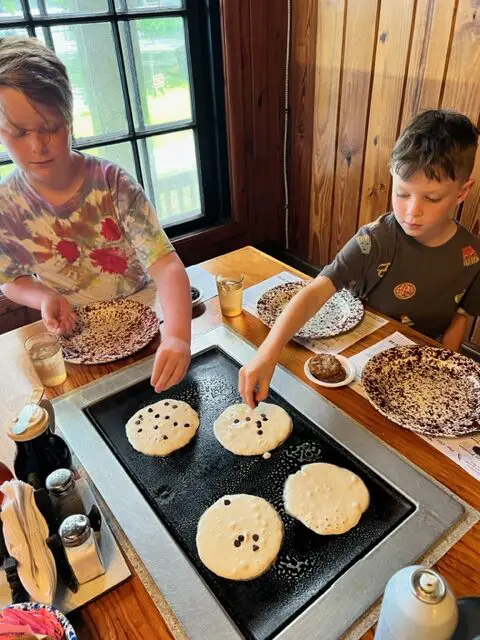 Day 2: Swimming with the Manatees
After breakfast we made our way to Crystal River to swim with the Manatees. We used Fun2Dive and had a wonderful experience with them. It was a little warm at this time of year to find too many manatees, but we were lucky enough to find a pod after searching for around an hour. It was incredible to see these giant creatures just floating under us. I can't wait to go back and do it again!
We grabbed lunch on the way home and had plan to go bowling later this afternoon, but were too tired after our manatee excursion!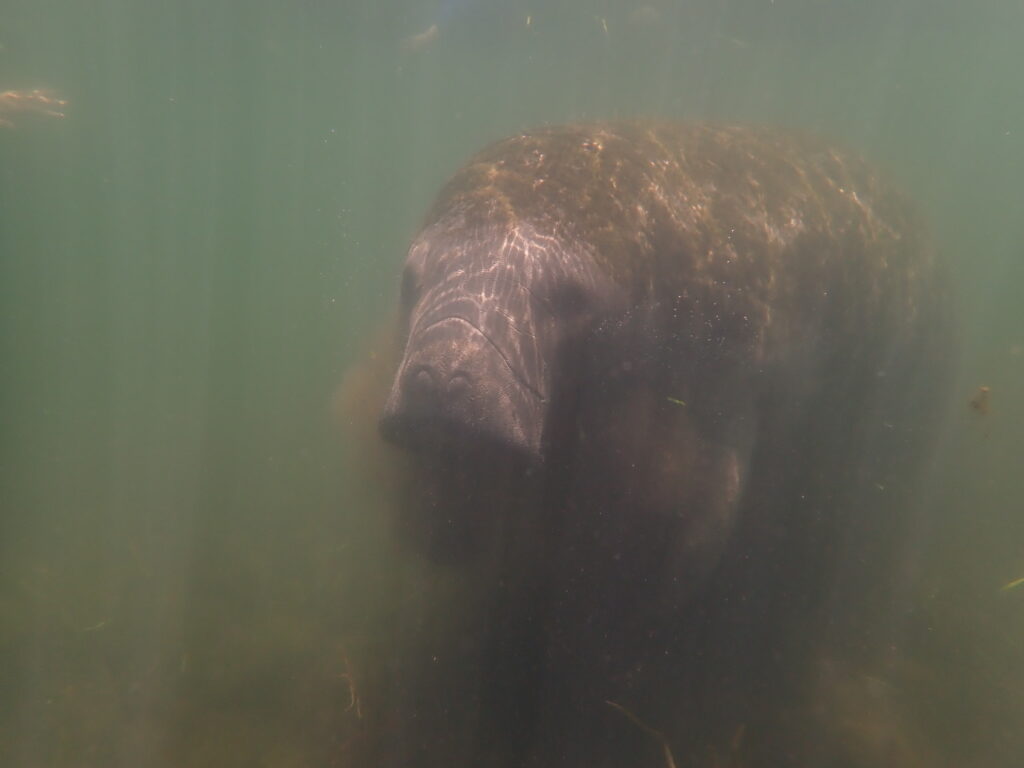 Day 3: A Day for the Mermaids
After breakfast at "home" we packed up and headed out to Weeki Wachee Springs State Park, about an hour drive from Dunnellon. We wanted to be sure to get there before they opened, so we left around 7:30 this morning. It was a holiday weekend, so we arrived early and stood in quite a long line to get in. As soon as we entered the boys and I rented inner tubes to take advantage of the natural lazy river. We had so much fun swimming in the springs here. After lunch at the snack shack, we headed over to the famous mermaid show.
A bit of history:
The mermaid shows at Weeki Wachee Springs State Park date back to 1947 when Newton Perry, a former Navy man, and underwater breathing specialist, established this iconic attraction. Perry developed the technology that allowed performers to breathe underwater using air hoses, pioneering the concept of live mermaid performances. These enchanting shows quickly gained popularity, drawing visitors from around the world and even catching the attention of Hollywood.
After the show we left to head to our next stop – Venice, Florida. We decided to go straight to Caspersen Beach to start our hunt for sharks teeth. Armed with homemade sharks teeth sifters we got to work and were pleasantly surprised with how easy it was to find them. After spending a few hours here, we checked into our hotel.
While in Venice, we stayed in the Fairfield Inn and Suites, which we loved because the room was spacious and had free breakfast in the morning (the boys took full advantage of that!)
For dinner we headed over to the highly recommended Sharky's on the pier where we had a wonderful dinner and then a walk down the pier for some photos.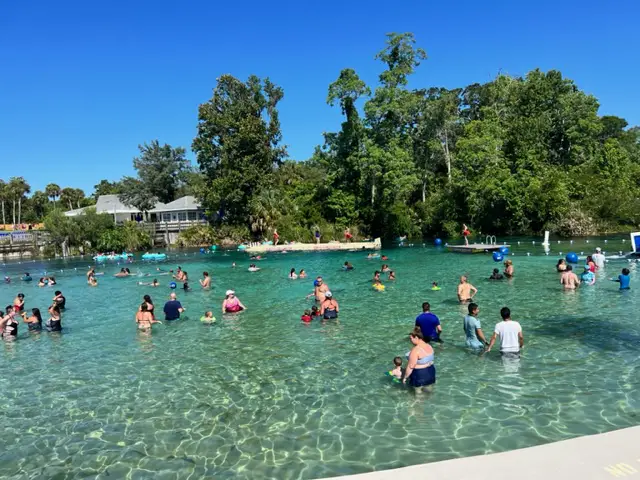 Day 4: More Sharks Teeth and on to Sanibel
After our hotel breakfast, we headed back to the beach to hunt for shark's teeth. We had a late checkout today, so had some extra time. I definitely paid for this with sunburn on my back from looking down hunting those teeth. It was too much fun! We headed back to the hotel for showers and packed up the car. This time to drive to Sanibel (about 1 hour and 45 minutes away).
We stopped for lunch on the way and then headed to Lighthouse Beach Park for swimming and shell hunting. This was my first time on the gulf side of Florida. I loved how beautiful and calm the water was and how far the boys and I could walk out. We really enjoyed our time here.
After the beach, we headed to Pinocchio's Italian Ice Cream for a treat.
We stayed at the Residence Inn Fort Myers Sanibel. While this hotel was not on Sanibel Island, it did offer a full kitchen, which came in very handy for us. I made dinner at the hotel and the hotel also offered a free breakfast in the morning.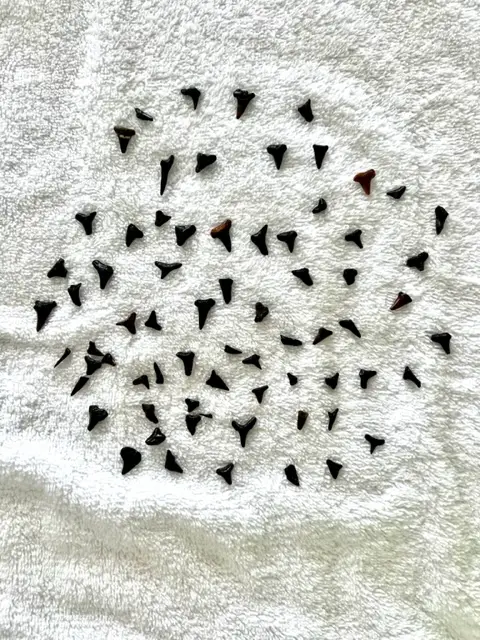 Day 5: Exploring Sanibel
We spent the day exploring Sanibel Island. Our day included more swimming and stops at island shops like She Sells Sea Shells (one of our favorites). We grabbed lunch at Jerry's Foods and sat in their beautiful courtyard. It was a very relaxed day enjoying the wonderful island and each others company.
Later this afternoon we stopped at Sun Harvest Citrus in Fort Myers for orange ice cream! We also picked up gifts for a few family members here, including Florida orange marmalade.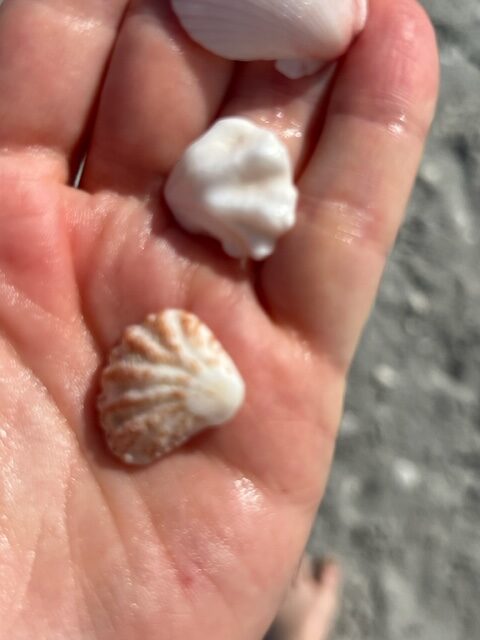 Day 6: The East Coast Calls
We had our longest drive today. After breakfast at the hotel, we packed up and headed back to the east side of Florida to Cocoa Beach (about a 4 hour drive from Sanibel). We stopped for lunch on the way and headed straight to Ron Jon Surf Shop, where we had way too much fun trying on hats and all sorts of things. Each of us ended up with a hat souvenir. The best surprise of all is that Florida residents get a discount!
We then checked into our hotel the Hilton Garden Inn Cocoa Beach. The location of the hotel was perfect. It is right on the ocean and close to all there is to see and do in Cocoa Beach. We quickly threw on bathing suits and went to the beach. I will admit I was a bit disappointed in the beach here (especially after Sanibel). It was a very windy day and the surf was extremely rough so the boys were unable to swim much there.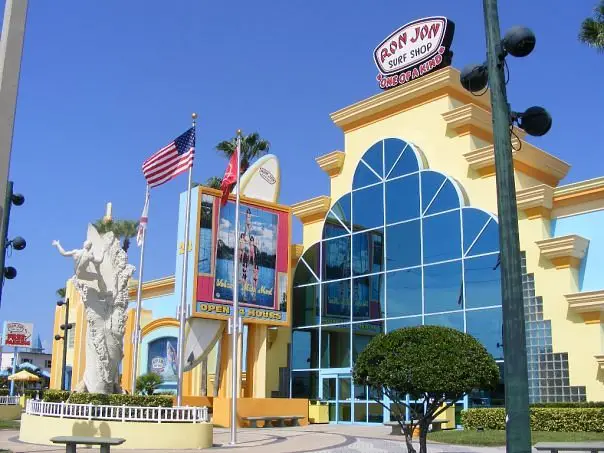 Day 8: Rockets Away!
We got up early again today and were at Kennedy Space Center when they opened. This was perfect as we were able to see Atlantis and get on the 10am bus to do the tour of the second building. We did stop on our way at Publix to buy pub subs. I took in a small backpack cooler with our lunch. We sat in the courtyard at the space center to eat (although after the flight simulator the boys weren't that hungry)!
This afternoon, we headed to our surprise hotel – the Orlando World Center Marriott where we met up with some friends. What a wonderful treat to end our trip! The Orlando World Center Marriott has its own waterpark and is a terrific option for families when you don't want to go out to Orlando's other parks.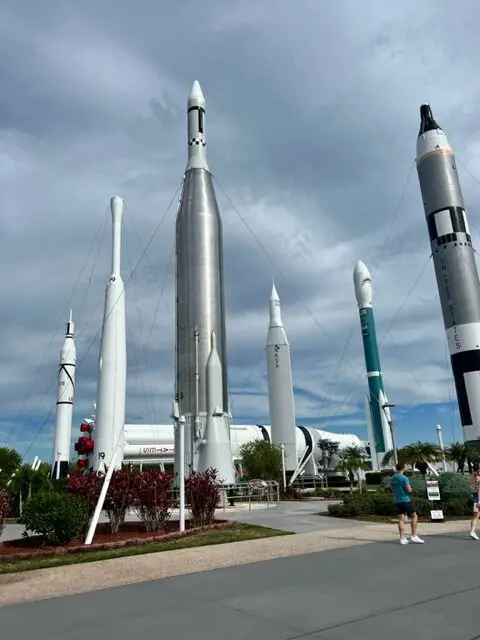 Day 9: Water Park Day
We stayed another night at the Orlando World Center Marriott and had a terrific time trying out all the slides. We had dinner at their amazing hibachi restaurant and even caught the incredible light show by the pool at night.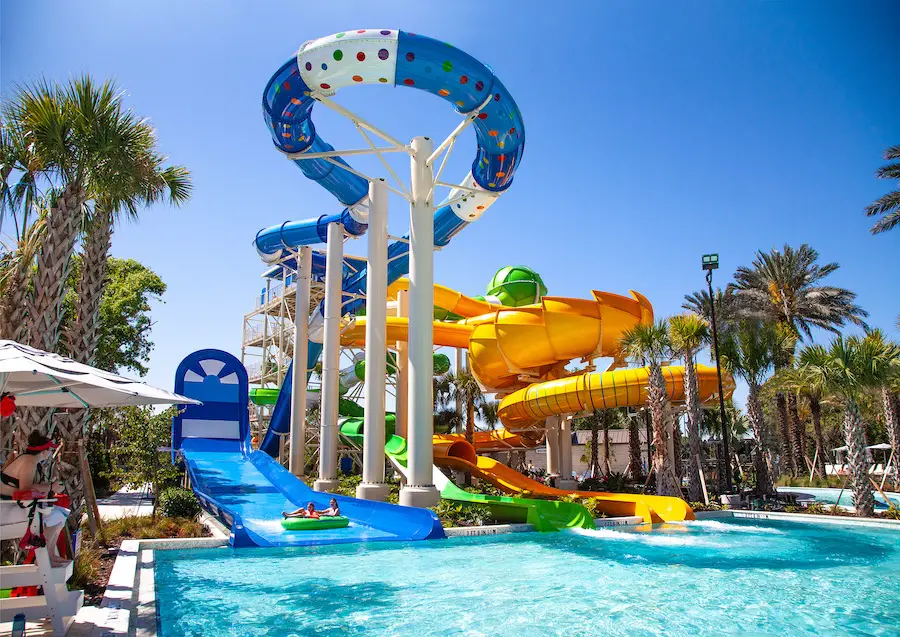 Day 10: Back Home
After spending the morning in the waterpark, we headed back to St. Augustine – of course stopping at our favorite gas station in Daytona – Buc-ees – on the way! We had a wonderful time exploring part of Florida, but have so many more spots on our wish list.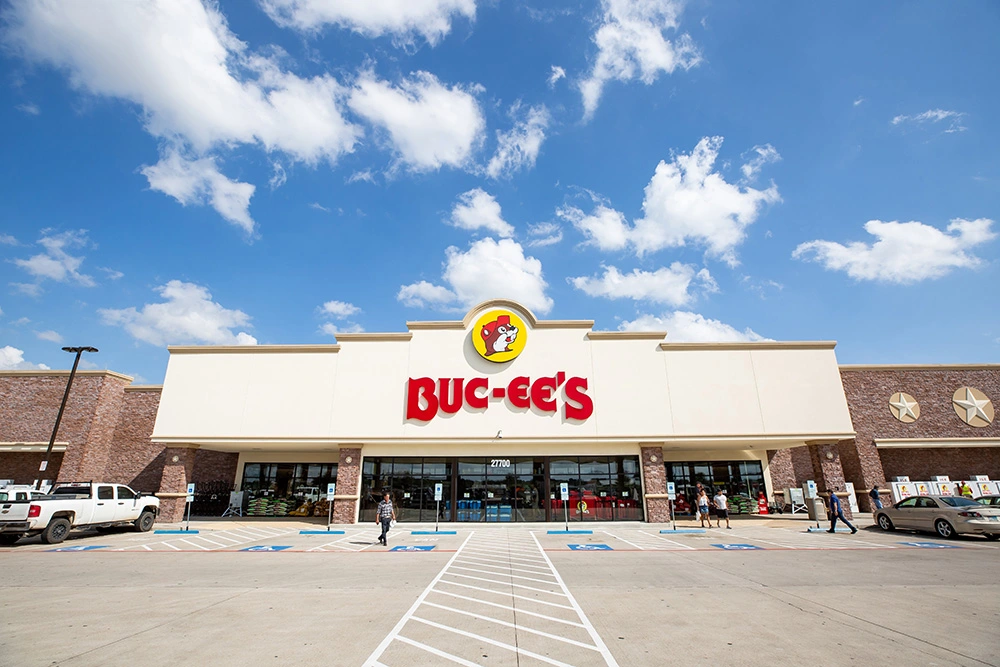 FAQ About Road-Tripping in Florida
When is the best time for a road trip in Florida?
The best time for a road trip in Florida is during the winter months (December to April) when the weather is mild and pleasant. Keep in mind that this is the peak tourist season, so accommodations can be more expensive, and attractions may be crowded. We took this road trip at the end of May/beginning of June.
Are toll roads common in Florida, and how do they work?
Yes, toll roads are common in Florida. Toll booths accept cash, but many now have electronic toll collection systems called SunPass. Consider getting a SunPass or using rental car programs that include tolls.
What's the speed limit on Florida highways, and what are the rules for seat belts and child safety seats?
Speed limits vary but are generally 70 mph on rural interstates and 55-65 mph on other highways. Florida law requires seat belts for all occupants and child safety seats for children under 5 years old.
How's the weather in Florida, and should I be concerned about hurricanes during a road trip?
Florida has a tropical climate with hot summers and mild winters. Hurricane season runs from June to November, so check weather forecasts and hurricane warnings before traveling. It's essential to be prepared and have an evacuation plan if you're in a hurricane-prone area.
What are some safety tips for driving in Florida?
Stay hydrated, especially in the heat, and be cautious of sudden rain showers. Watch for wildlife, especially in rural areas, and obey traffic laws, including no texting while driving.
Can I camp along the way during my road trip in Florida?
Yes, Florida offers numerous campgrounds in state parks and national forests, as well as private campgrounds. Be sure to check availability and make reservations in advance, especially during the peak season.
What are some unique attractions or experiences for a Florida road trip?
Consider visiting the St. Augustine Historic District, the Kennedy Space Center, swimming with manatees in Crystal River, and exploring the natural beauty of the Apalachicola National Forest.
Are there any scenic drives in Florida that I should include in my road trip?
Yes, some scenic drives include the Overseas Highway (US Route 1 through the Florida Keys), the Tamiami Trail (US Route 41 across the Everglades), and A1A along the Atlantic coast.
What's the best way to plan my road trip in Florida?
Start by outlining your destinations and routes, book accommodations in advance during peak seasons, check for any road closures or construction, and have a flexible itinerary to accommodate unexpected discoveries along the way. Additionally, consider using navigation apps or GPS devices for real-time directions and traffic updates.
Remember that road trips offer a great opportunity to explore Florida's diverse landscapes, from pristine beaches to lush forests and vibrant cities, so enjoy the journey as much as the destinations.