German Christmas Market Itinerary: Munich, Nuremberg, Rothenburg, Würzburg and Frankfurt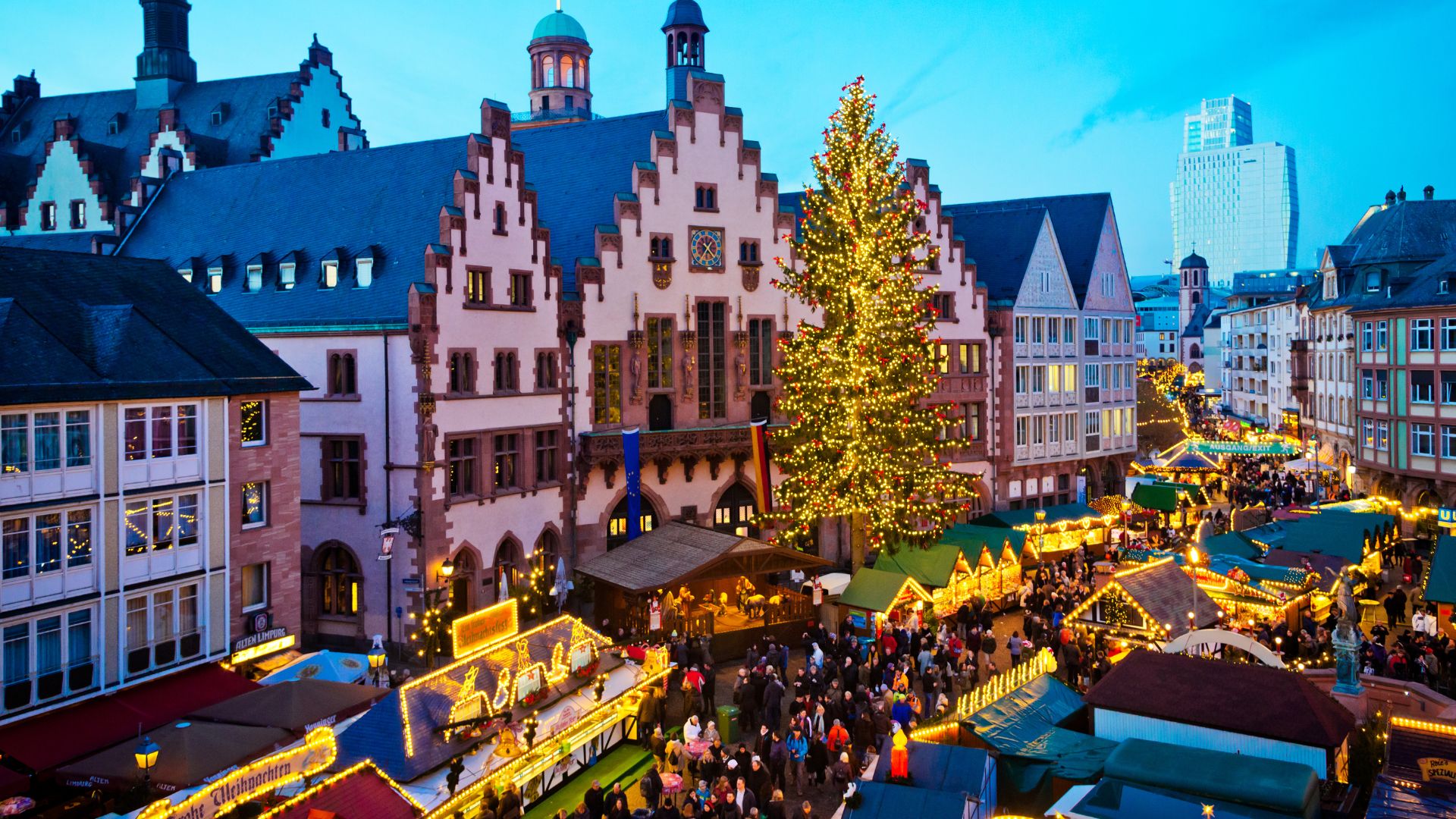 Christmas season in Germany is magical. Here is a German Christmas Market Itinerary for Munich, Nuremberg, Rothenburg, Würzburg and Frankfurt.
The Christmas season in Germany is a magical time. If you have not experienced it yet, I strongly encourage you to go at least once in your lifetime. I have had the opportunity to spend time at the Christmas markets in many different capacities – on my own, with my family and leading a group tour. The wonderful thing is that all of the cities you visit also have wonderful historical sites and opportunities outside of the Christmas markets. So, if you are traveling with a partner who may not love shopping (even though the markets are so much more!) there are wonderfully easy ways to round out your German Christmas market itinerary to make it fun for everyone.
Christmas Market History
Wondering about the history of the Christmas markets? Christmas markets, known as "Weihnachtsmärkte" in German, have a rich history dating back to the Late Middle Ages. The concept originated in the German-speaking regions of Europe as festive marketplaces where locals could gather to purchase supplies for the upcoming winter months. Over time, these markets evolved to include seasonal items and holiday festivities, becoming an integral part of the Advent season. The first recorded Christmas market dates back to 1384 in Bautzen, Germany. These markets were not only places to shop but also centers of community and merriment, offering entertainment, traditional food, and handmade crafts. Today, Germany's Christmas markets continue to evoke the festive spirit of the season, welcoming visitors from around the world to experience the magic of twinkling lights, fragrant mulled wine (one of the best market treats!), and a cherished tradition that has endured for centuries.
If you are interested in planning your own trip to the Christmas markets, here is a sample German Christmas Market Itinerary that I used to visit markets in Munich, Nuremberg, Rothenberg ob der Tabeur, Würzburg and Frankfurt. This is an excellent route for anyone wishing to visit the Christmas markets for the first time.
Sample German Christmas Market Itinerary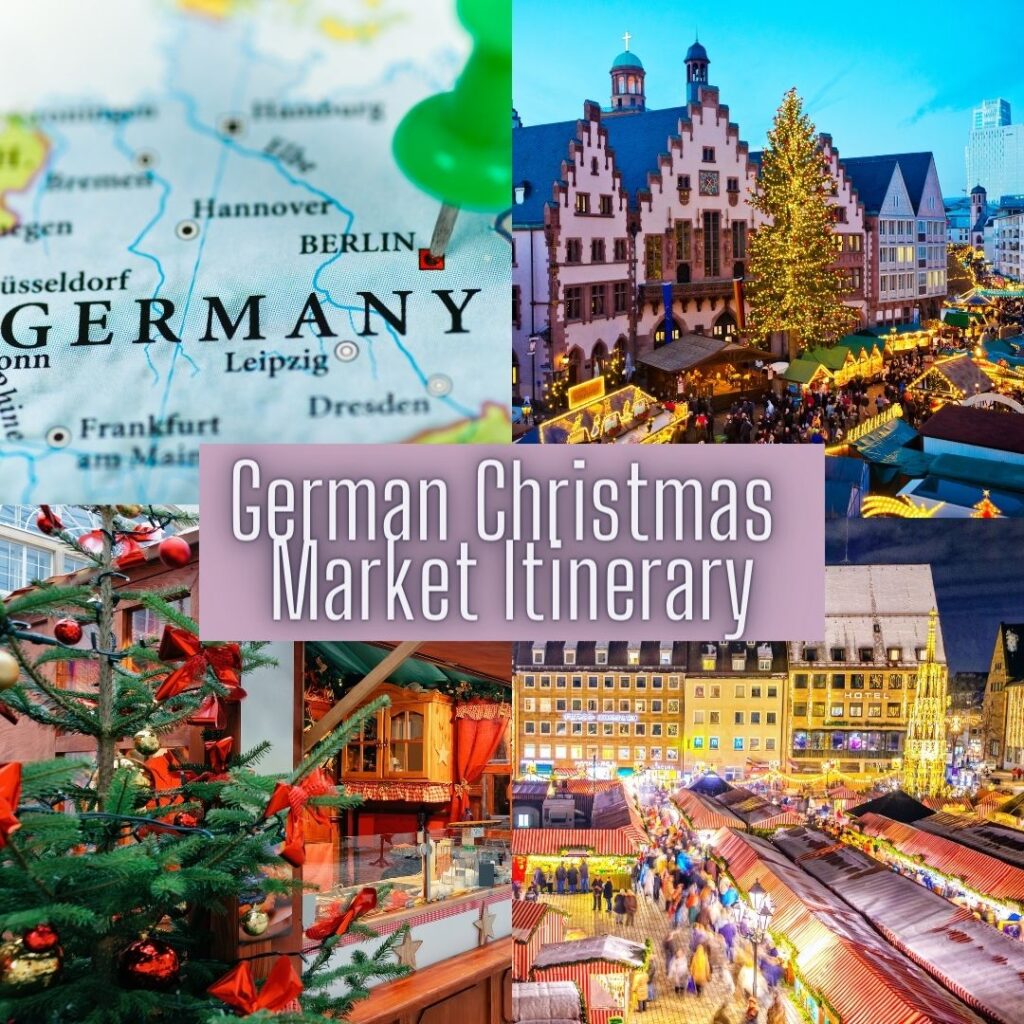 Day 1: Arrive in Munich
Check into hotel
Late this afternoon we will have a walking tour of Munich's Old Town learning more about the history of this area and also stopping by the famous Hofbräu House. This evening we will have a traditional German Welcome Dinner to get us in the German spirit! As we are in Munich, a traditional dinner will include the best of Bavaria with choices like the famous German pretzels, weisswrurst (white sausage), sauerbraten (marinated and slow-cooked pot roast), bratwurst washed down with Bavarian beer and for dessert a warm slice of apfelstrudel, a classic apple pastry often served with a dollop of vanilla sauce or a scoop of vanilla ice cream. Partaking in a traditional dinner will help set the scene for the coming days in Germany and allow you to feel right at home from your first night here.
*If you arrive early in the morning and are unable to check into your hotel there are plenty of fun options – including, my favorite, a visit a bit on the outside of town to the Hofbräu München Brewery where you will have an opportunity to learn more about the brewing process of this world famous beer and can even enjoy lunch with a pint.
Looking for a Munich hotel? I stayed at the Alpen Hotel München.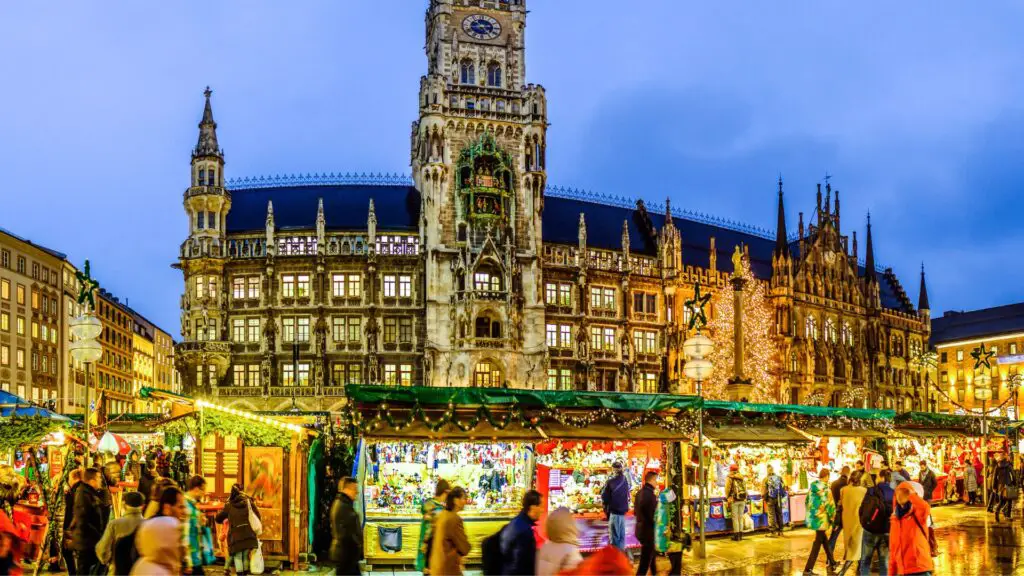 Day 2: Food Market Tour & Munich Christmas Market Day
This morning we will tour the Viktualienmarkt – Munich's largest food market with over 100 stalls. You will try local, German specialties and sample treats from the region including stollen and glühwein. There are over a dozen Christmas markets in Munich. We will spend the rest of the day exploring as many as possible including the more secluded, Residenz Christmas Village. The biggest Christmas market in Munich is the Christkindlmarkt Marienplatz, where we will end our day with the chance to experience the market at night.
Need a suggestion for your Viktualienmarkt Tour? Check this one out: Munich: Viktualienmarkt Gourmet Food Tour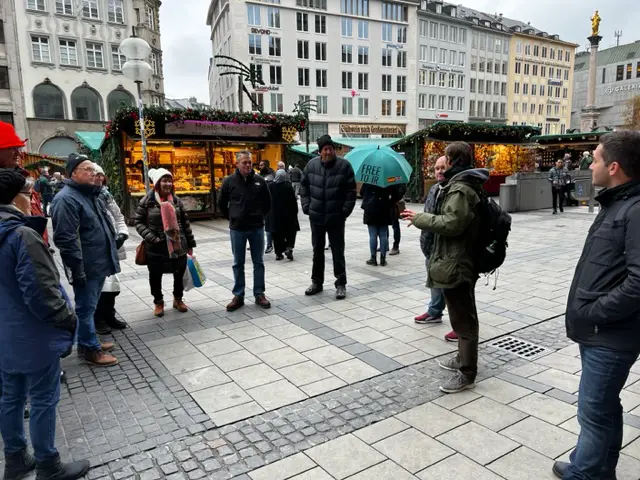 Day 3: Exploring Neuschwanstein Castle
Today we embark on a day trip to Neuschwanstein Castle. Often known as Germany's Cinderella castle, it was actually the inspiration for the Sleeping Beauty castle at Disneyland. On arrival we have the option to take a bus to the casle, or my preferred method of transport, a horse and carriage. When we arrive, we will take a guided tour of the castle. Afterward we will have lunch at a lovely local brewery with views of the castle. From lunch we will travel to the town of Augsburg. This gives a chance to see another Christmas market and get a little closer to Nuremberg for tomorrow.
Nervous about heading out to the castle on your own? There are many wonderful day trips available to you. Check them out here.
Looking for a hotel in Augsburg? I stayed at the Dom Hotel.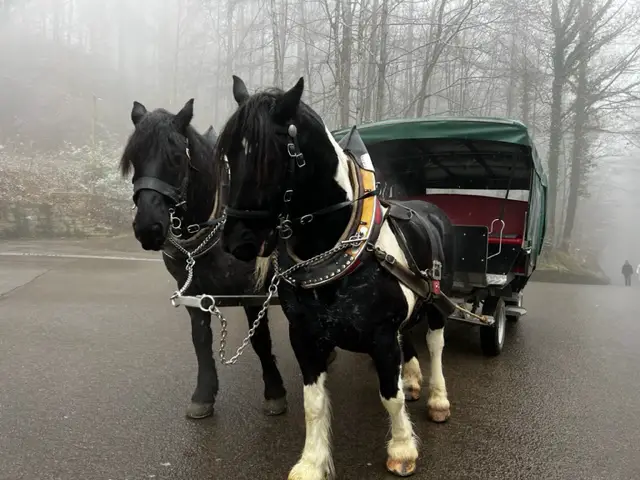 Day 4: Nuremberg and Lekuchen
This morning continuing on our German Christmas market itinerary, we will wake early to make the trip to Nuremberg. Upon arrival, we will visit the Nuremburg Castle. During the Middle Ages, the castle was one of the most important imperial palaces in the Holy Roman Empire. Later, we will visit Nuremberg's famous Christmas market. Christkindlesmarkt is one of the largest and most popular Christmas markets in the world. Nuremberg Christmas Market is known for its iconic red and white striped cloth awnings that cover many of the market stalls. In the adjacent side streets, you'll find the Market of the Sister Cities, where vendors from around the world sell everything from African flutes to Italian ham. There's also a Children's Market nearby, with pretty carousels, gingerbread houses, and other kid-friendly stalls and activities.
Nuremberg is renowned for its Lebkuchen, a type of gingerbread that has become a symbol of the Christkindlesmarkt. These spiced cookies are often elaborately decorated and make for popular souvenirs and gifts. We will be sure to try these in the market and buy a few to bring home.
Looking for a Nuremberg hotel? I stayed at Dürer-Hotel.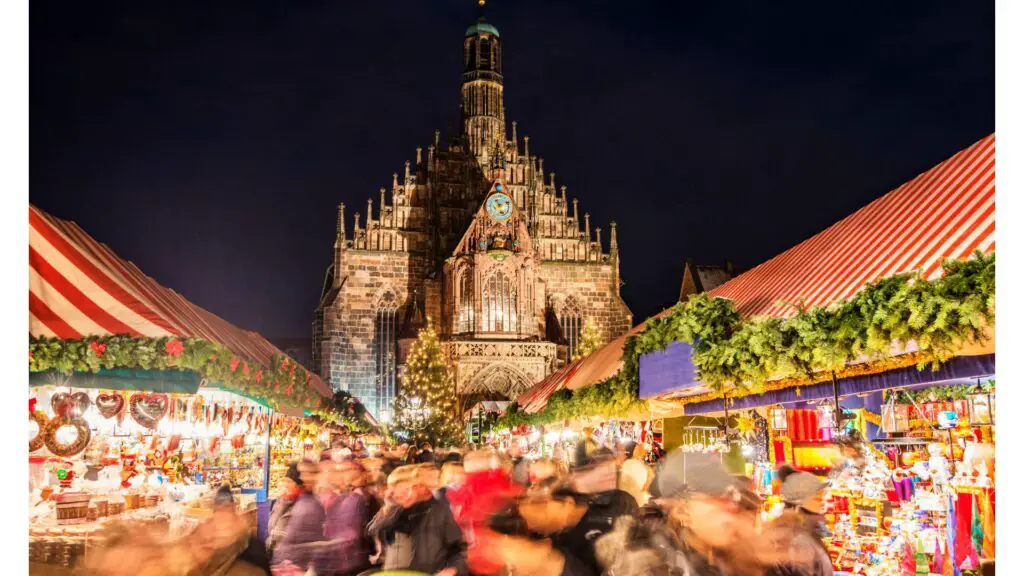 Day 5: Rothenburg ob der Tauber and Käthe Wohlfahrt
After a leisurely breakfast, we will make the trip from Nuremberg to Rothenburg ob der Tauber my favorite Christmas town in all of Germany. Rothenburg is a walled city located on a plateau overlooking the Tauber River. Our first stop this morning will be the renowned Käthe Wohlfahrt store, where you can shop to your heart's content for high quality Christmas ornaments and decorations. The store will even ship your treasures home for you. Next we will stop for a lovely lunch at Restaurant Reichsküchenmeister. You will find the restaurant filled with locals enjoying a meal together. We will then spend time exploring the city and its old town before enjoying the Christmas market here. You will find around 50 stands with delicious, beloved Franconian treats such as crispy fried Bratwürste, savory Flammkuchen and finely-seasoned gingerbread Lebkuchen and dozens of holiday favorites. Later tonight, we will join the Night Watchman Tour from the center of town – an experience you will never forget!
Hotels in Rothenburg book fast, so book early. Here is a great hotel right in the center of town, Hotel Reichs-Küchenmeister.
Day 6: Würzburg and the Residenz
From Rothenburg we will make our way to Würzburg, with our first stop at the Würzburg Residenz. The Würzburg Residenz is a magnificent palace. This UNESCO World Heritage site is celebrated for its exquisite architecture, opulent interiors, and significant historical importance. After our visit to the Residenz, we will have lunch at one one of the many local restaurants. After lunch, we will walk down to city square stopping for a glass of wine on the bridge to take in the incredible scenery stopping to see Würzburg Cathedral on the way. Late this afternoon and evening you will have a chance to experience the magic of the Würzburg Christmas market. The old town twinkles with thousands of lights here as vendors sell their wares. Enjoy sweets, like Christmas cookies or snacks like roasted almonds as well as the famous gluehwein as you walk through this special market with around 100 stalls.
Looking for a hotel in Würzburg? I enjoyed staying at the Best Western Premier Hotel Rebstock.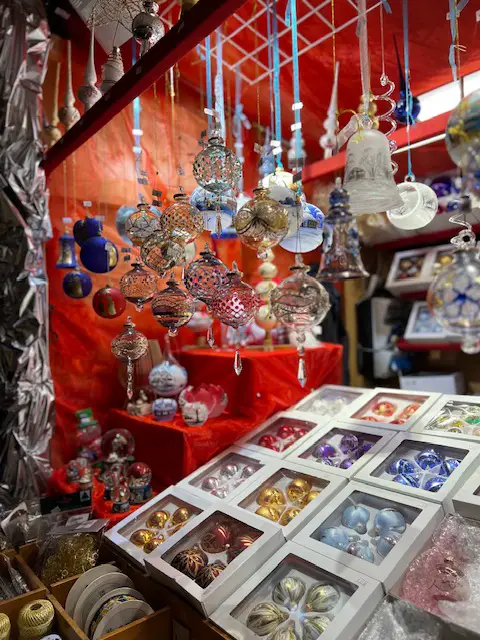 Day 7: Frankfurt and Bidding Goodbye to Germany
On our final tour day on this German Christmas market itinerary, we will spend a leisurely morning in Würzburg before making our longest drive of the trip on to Frankfurt. In Frankfurt, a winter wonderland comes to life through its captivating Christmas markets, each offering its own unique charm. The historic Römerberg market transforms the heart of the city into a fairytale setting, where medieval buildings serve as a backdrop to artisanal stalls and festive decorations. The bustling Frankfurt Christmas Market showcases the city's cosmopolitan spirit, enveloping visitors in a vibrant atmosphere filled with the scents of mulled wine and delectable treats. Meanwhile, the St. Bartholomew's Market by the cathedral brings a touch of medieval nostalgia, and the Pink Christmas Market radiates inclusivity and warmth. We will explore several of the city's markets as we enjoy more Christmas treats and relax in the glow of thousands of twinkling lights. Dinner will be at a lovely local restaurant featuring traditional food and treats.
Tomorrow we depart from Frankfurt with wonderful memories of this special time of year in Germany.
Need a hotel in Frankfurt? The Flemings Selection Hotel Frankfurt-City is in an excellent location with walking distance to the markets. I stayed here on the night of St. Nicholas and woke up to a big chocolate St. Nicholas outside of my door, courtesy of the hotel. This was such a lovely gesture!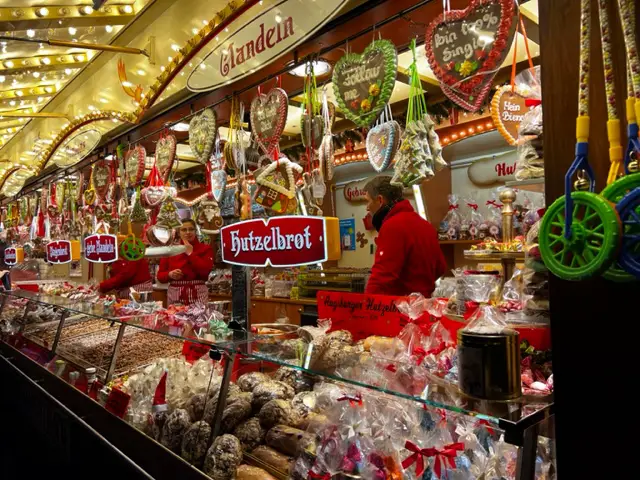 FAQ About Visiting German Christmas Markets
When do German Christmas markets open and close?
Christmas markets in Germany usually open around late November or early December and run until December 24th, but dates can vary by city and market. Some larger markets might continue until the New Year.
What can I buy at German Christmas markets?
German Christmas markets offer a wide range of goods including handcrafted ornaments, wooden toys, winter clothing, traditional crafts, and local delicacies.
What is the atmosphere like at German Christmas markets?
The atmosphere is festive and magical, with beautifully decorated stalls, twinkling lights, live music, and the aroma of seasonal treats filling the air. It's a cozy and inviting experience.
What are the must-try foods and drinks at the Christmas markets?
Some must-try foods include Bratwurst sausages, Kartoffelpuffer (potato pancakes), and Stollen (fruit cake). Don't miss out on the warming Glühwein (mulled wine) and hot chocolate.
What is the best time of day to visit the Christmas markets?
The markets are often less crowded during weekday mornings and early afternoons. However, visiting in the evening when the lights are illuminated can create a more magical atmosphere.
What are some local customs and traditions associated with the German Christmas markets?
Many markets have opening ceremonies and daily events like musical performances and nativity scenes. The tradition of Advent calendars also originates from Germany.
Is bargaining common at German Christmas markets?
Bargaining isn't a typical practice at Christmas markets. Prices are usually fixed, especially for traditional goods. However, some vendors might offer discounts on bulk purchases.
What should I wear to stay warm at the Christmas markets?
Dress in warm layers, including a good winter coat, gloves, scarf, and a hat. Comfortable walking shoes are essential too, as the markets often involve walking on cobbled streets.
Are there any nearby attractions or activities to combine with a Christmas market visit?
Many cities with German Christmas markets have historical sites, museums, and landmarks to explore during the day. You could also consider taking winter-themed tours or enjoying ice skating rinks.