Explore a Mediterranean dream with our Southern Italy and Sicily Itinerary, from the sun-kissed Amalfi Coast to the timeless charm of Sicily.
Traveling through Southern Italy and Sicily is an enchanting journey that unfolds like a Mediterranean dream. The picturesque Amalfi Coast welcomes you with its sun-kissed towns, where Sorrento's lemon groves and Positano's pastel houses cling to cliffsides. In Ravello, the serenity of Villa Cimbrone's gardens provides a serene escape, while the allure of Capri's Blue Grotto beckons with its magical, azure waters. Venturing further south to Sicily, Catania's lively markets and Baroque architecture offer a taste of local life, while the historic charm of Ortigia Island in Syracuse transports you back in time. Finally, Taormina's ancient Greek Theater boasts breathtaking views of Mount Etna, reminding you that this region is a tapestry of both natural and cultural wonders.
Exploring Southern Italy and Sicily is an odyssey of Mediterranean beauty, vibrant traditions, and unforgettable moments. Here is our proven Southern Italy and Sicily Itinerary you can use to plan your own, unforgettable journey.
Sample Southern Italy and Sicily Itinerary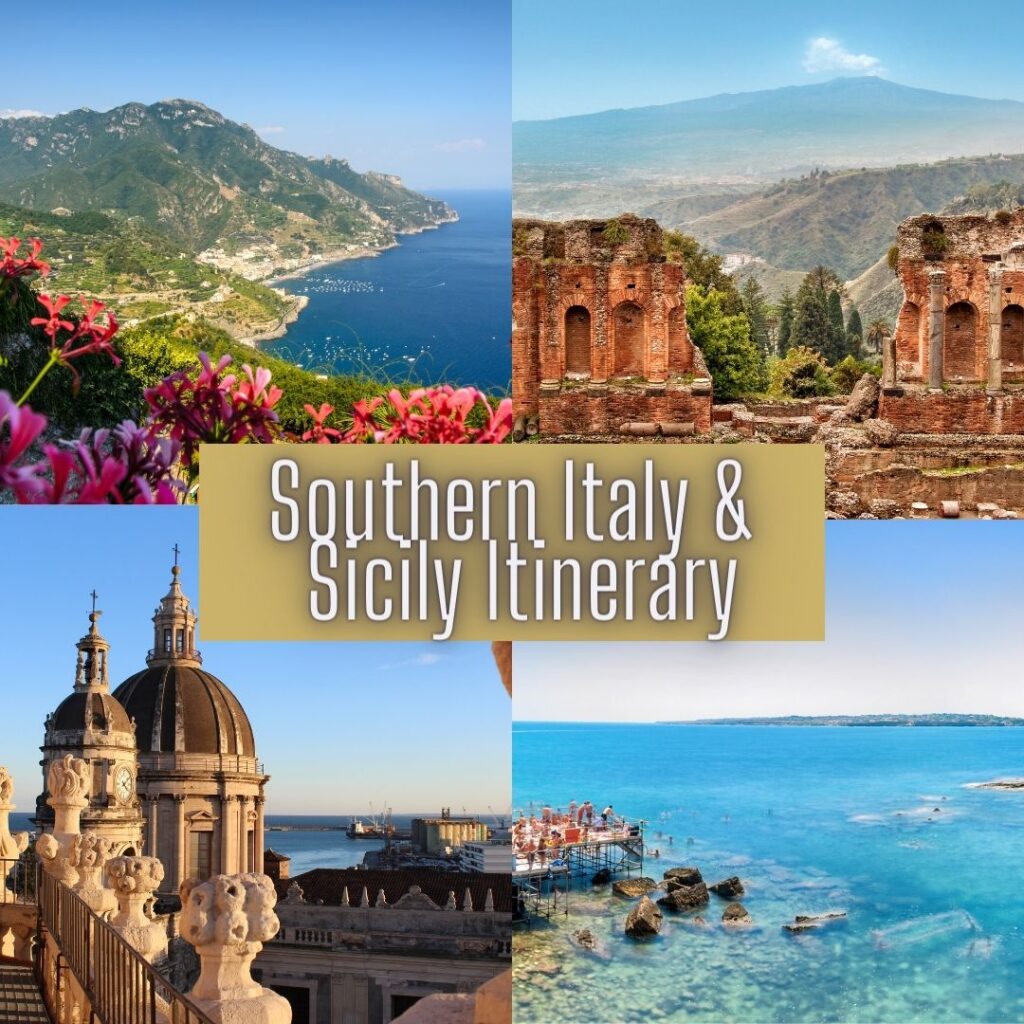 Day 1: Arrive in Naples
Today we will arrive at Naples airport and head to our hotel in beautiful Sorrento. We will have the rest of the day to enjoy Sorrento's shops and atmosphere.
Looking for a hotel in Sorrento? We like the Grand Hotel Riviera.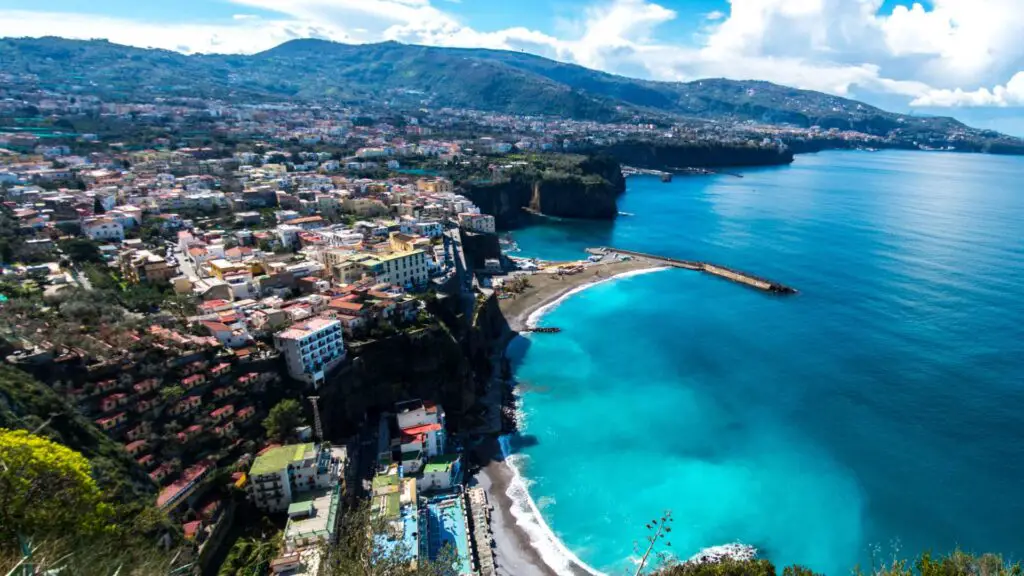 Day 2: Exploring the Amalfi Coast
This morning, we travel down the coast to the beautiful city of Positano. Here you will have a chance to walk the charming streets, taking in the atmosphere of this Italian coastal town. From Positano, we move on to Ravello, at the top of Mount Cerreto, where you will have lunch, then stroll in the lovely gardens of Villa Ruffolo. Afterward, we will visit visit the 11th century cathedral of Saint Andrew, the patron saint of the town.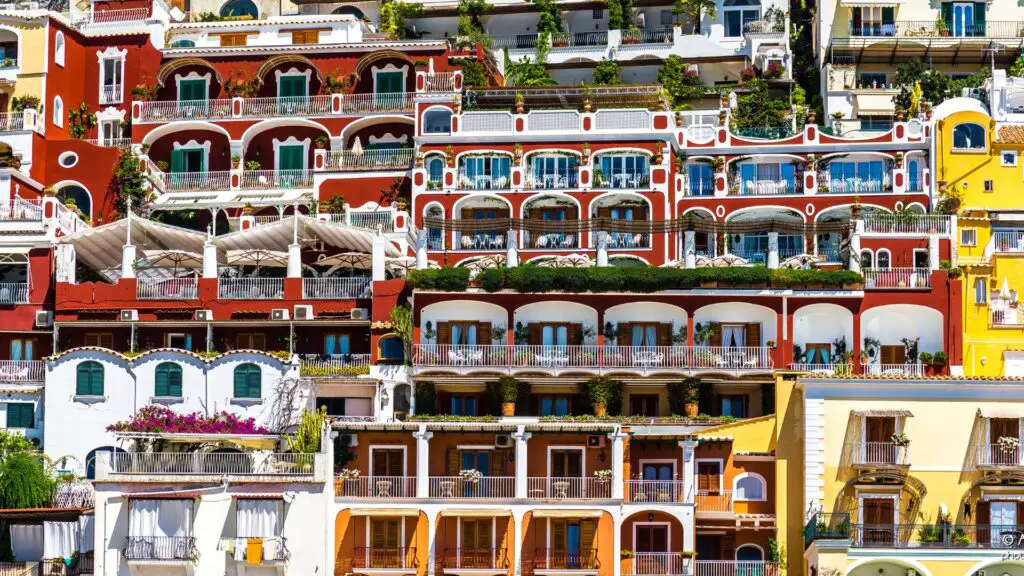 Day 3: Capri – Private Boat Tour
Any Southern Italy and Sicily Itinerary would not be complete without getting on the water. Today we will take ferry to the Island of Capri for a private boat tour where we will swim in the beautiful, blue water. After docking, we head to Anacapri, where you can admire the white-washed houses and flowers of this region. Once there, we will enjoy the town, have lunch and perhaps take the funicular to see the views from the very top of the island before heading back.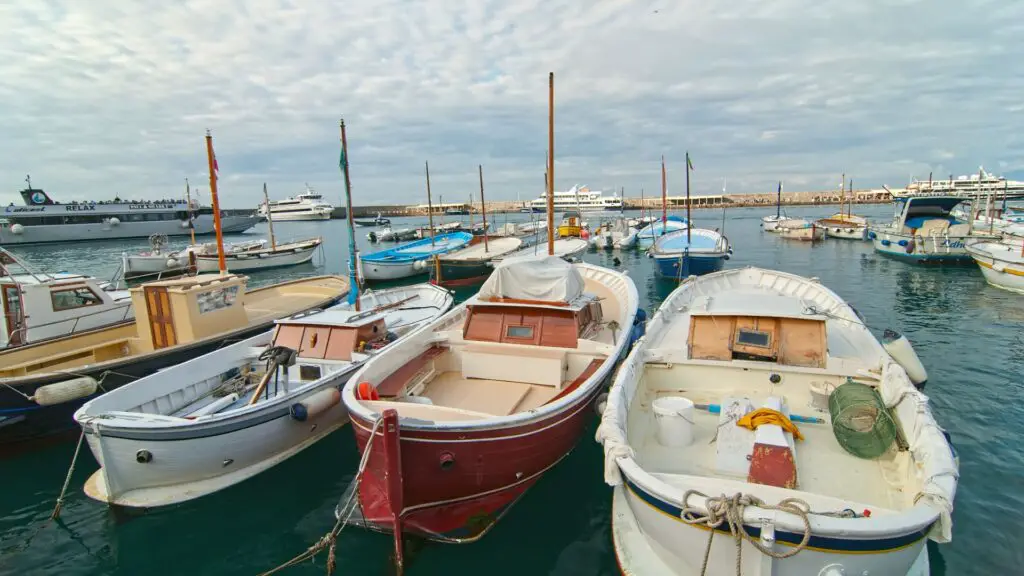 Day 4: Onward to Sicily
Today we travel from Naples on a flight to Catania, on Sicily's eastern coast. After we arrive, we will travel to Syracuse, once one of the most important cities in the Greek Empire.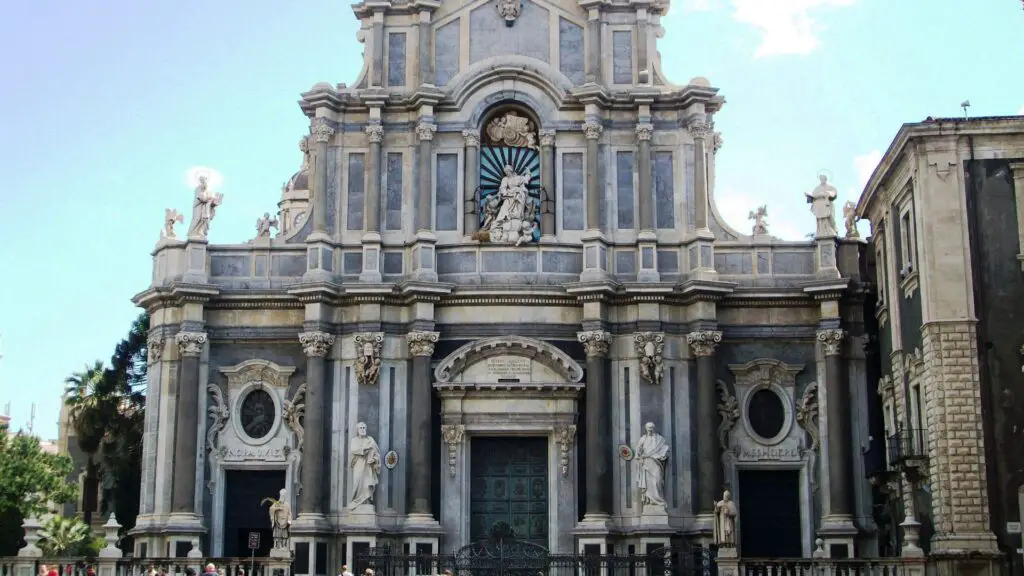 Day 5: The Wonders of Ortigia
This morning we will have the chance to swim in the Mediterranean Sea off of one of Ortigia's famous swim platforms. Watch cliff divers and enjoy some relaxing time. After that, our itinerary takes us to the UNESCO heritage town of Noto, one of Sicily's most beautiful towns. Later today we will do a chocolate tour and tasting of the famous chocolate in Modica. You will hear about steps of making chocolate as well the philosophy behind the selection of raw materials up to the final product.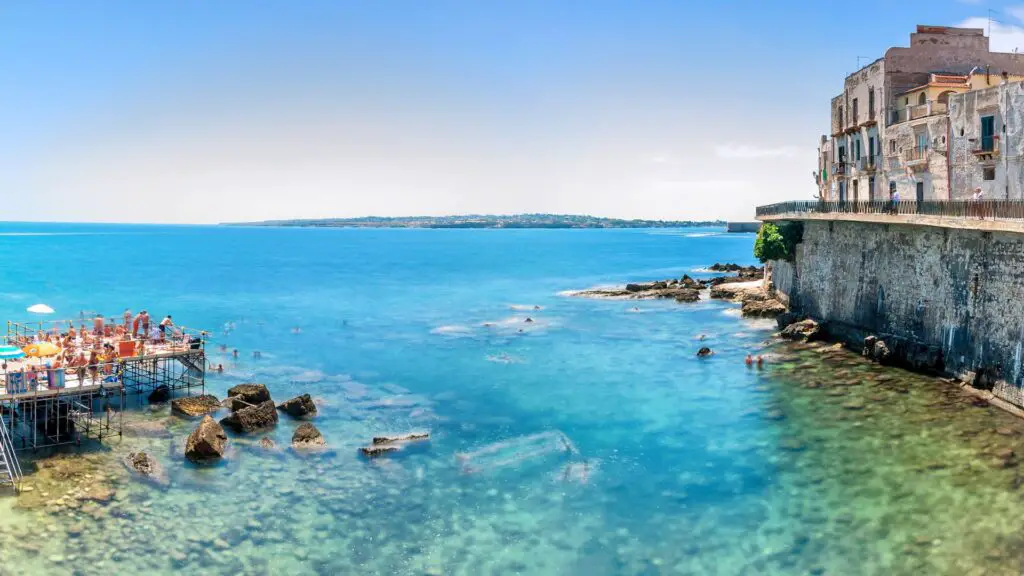 Day 6: The Art of Italian Cooking
Following along on our Southern Italy and Sicily Itinerary, this morning, after breakfast, we will travel to Taormina for a cooking class. We will visit of Taormina's Food Market, where local farmers, fishermen and butchers sell their fresh goods. You will select products for your class and with personal guidance from your chef learn culinary secrets of cooking homemade bread, pasta, fish and vegetables dishes in a traditional Sicilian style.
Need a cooking class? This option is great because it includes a market tour.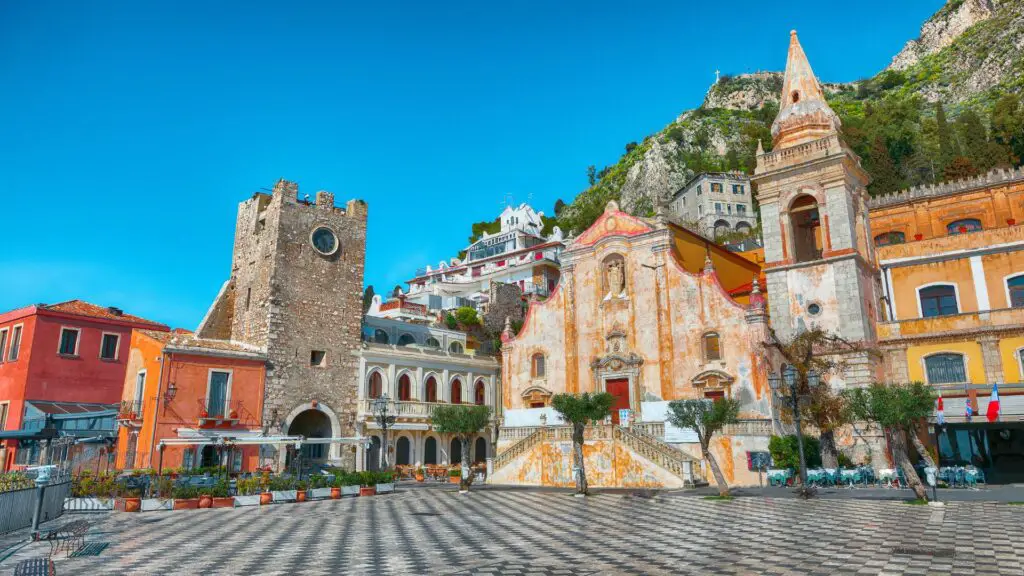 Day 7: The Wineries of Mt. Etna
This morning we head to one of the famous wineries near Mt. Etna and learn about the local wine making process and more about the Sicilian wine industry. Afterward, we will have a chance to sample local wines while enjoying the views of Mt. Etna.
Looking for a wine tour you can join? One of our favorites is the Full-Day Wine & Alcantara Canyons Tour.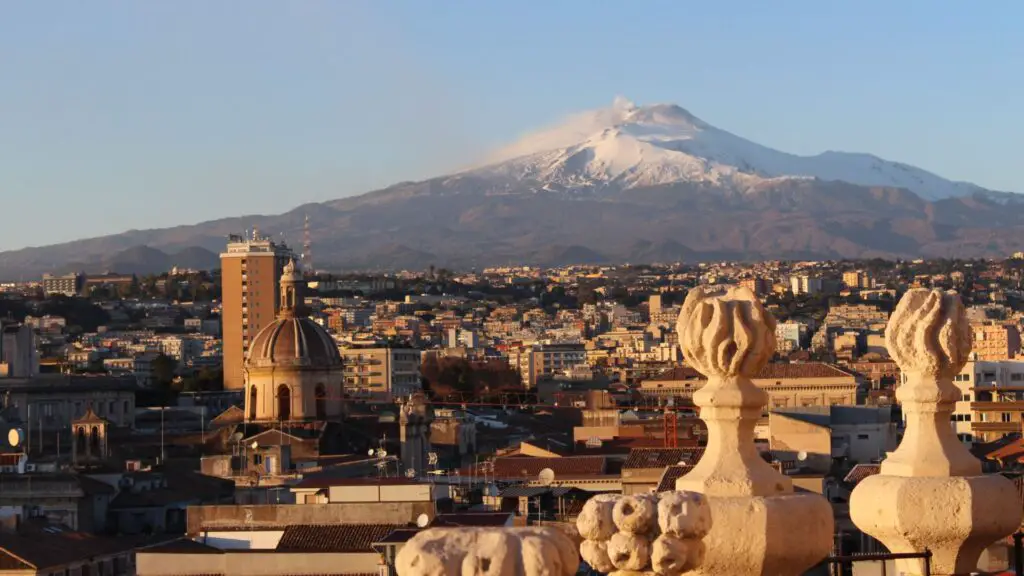 Day 8: Enjoying Bustling Catania
On the last day of our Southern Italy and Sicily Itinerary, we will start our day with a visit to the Piazza del Duomo, the heart of the city. Here we will see the Cathedral of Saint Agatha, the Fontana dell'Elefante (Elephant Fountain), and the Palazzo degli Elefanti (Elephant Palace) Next, we will head to the nearby Fish Market, one of the most famous markets in Italy. Here we can browse the stalls selling fresh seafood, fruit, and vegetables. In the afternoon, take a stroll along Via Etnea, the main shopping street in Catania. Here you can find a variety of shops, cafes, and restaurants. Make sure to stop by the Bellini Gardens for a beautiful view of the city.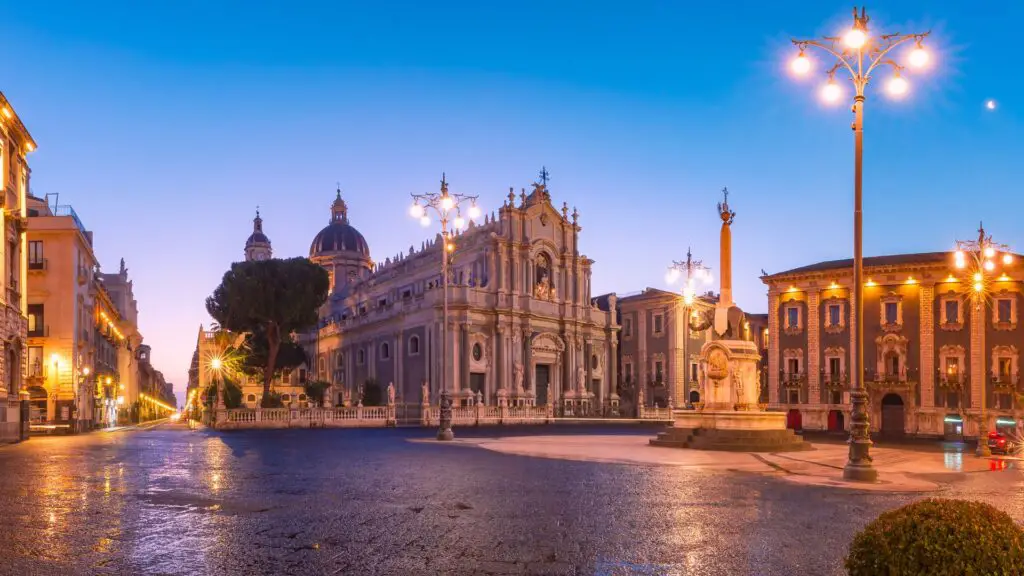 Day 9: Arrivederci!
Alas! Our trip has come to an end. From here you can return home or continue your travels around Italy to experience more this beautiful country has to offer.
Looking for more itineraries for traveling in Europe? Check out our Europe Travel Page.
FAQ about traveling to Southern Italy and Sicily
When is the best time to visit Southern Italy and Sicily?
The best time to visit Italy is during the spring (April to June) and early fall (September to October) when the weather is pleasant, and tourist crowds are smaller. Summers can be hot and crowded, while winters are milder but can be rainy.
Do I need a visa to visit Southern Italy and Sicily if I'm from outside the European Union?
It depends on your nationality. Check the Italian government's official website or your country's consulate for up-to-date visa requirements. EU citizens typically do not need a visa for short visits.
What is the currency used in Southern Italy and Sicily?
The currency used in Southern Italy and Sicily, like the rest of Italy, is the Euro (€).
Is it necessary to speak Italian to travel in Southern Italy and Sicily?
While Italian is the official language, many people in tourist areas speak at least some English. However, learning a few basic Italian phrases can enhance your travel experience and interactions with locals.
Are there specific cultural customs or etiquette I should be aware of when in Southern Italy and Sicily?
Italians value politeness and manners. Greeting with a handshake or a kiss on both cheeks is common. In addition, when dining, it's customary to wait for the host to start eating. Tipping is appreciated but not obligatory.
What are some popular dishes to try in Southern Italy and Sicily?
Southern Italian and Sicilian cuisine is famous for dishes like pizza, pasta with seafood, arancini (stuffed rice balls), cannoli, and various types of cheese, including mozzarella and ricotta. Don't miss trying local specialties in each region.
Are there any safety concerns in Southern Italy and Sicily?
Like in any travel destination, it's important to be aware of your surroundings and take common-sense precautions against petty theft. Some areas, especially in larger cities, may have higher crime rates, so it's advisable to research your specific destination and stay vigilant.
How can I get around in Southern Italy and Sicily?
You can get around by train, bus, rental car, or organized tours. The train network is extensive and connects major cities, while buses are often used for smaller towns and rural areas. Rental cars provide flexibility but can be challenging in some urban areas with limited parking.
What are some unique cultural experiences to consider during my visit to Southern Italy and Sicily?
Participate in a traditional Italian cooking class, attend local festivals and events, explore ancient ruins and historical sites, and savor the regional wines and cuisine, which are deeply embedded in the culture of Southern Italy and Sicily.
Remember to check the latest travel advisories, weather forecasts, and any entry requirements before your trip, and always have travel insurance for added peace of mind. Enjoy your journey through the rich history, culture, and cuisine of Southern Italy and Sicily!